3 mm (84 - 96 GHz, Primary Focus) Receiver
Navigation
Receiver Data
Type
HEMT, cooled
Channels
3
Receiver Noise Temperature
85 K (Channel A)
100K (Channel B)
135 K (Channel C)
Frequency Range
84 - 96 GHz
Bandwidth RF-Filters
no RF Filter
Polarization
Horn I: LHC (Channel A) and RHC (Channel B)
Horn II: LHC (Channel C)
Calibration
Noise diode and pulse cal injection in IF
Feed
Primary fokus horns
1. IF
19.5 - 22.5 GHz
1. Oscillator
Frequency Multiplier ULO1*48 (59 -75 GHz)
ULO1 = 1312.5 - 1562.5 MHz
2. IF
2 - 4 GHz
2. Oscillator
Frequency Multiplier ULO2*32 (18 GHz)
ULO2 = 562.5 MHz
3. IF
0.5 - 1.0 GHz
3. Oscillator
Frequency Multiplier ULO2*4 (2.25 GHz)
ULO2 = 562.5 MHz
Block Diagram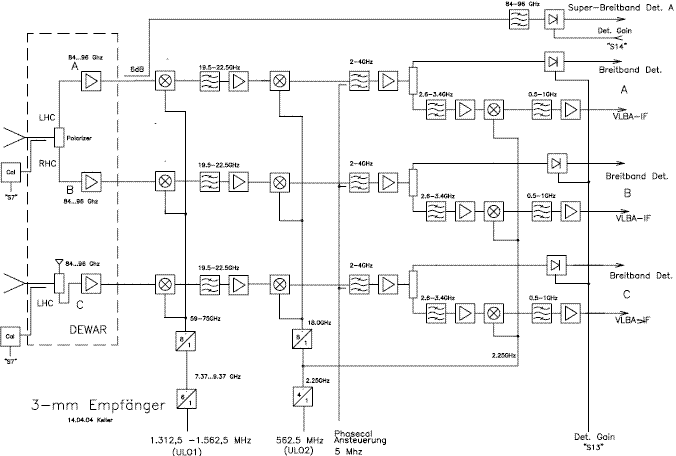 - to enlarge, click into block diagram -
Comments
This is a tunable single sideaband superheterodyne system fo line and total power observations. For frequency dependent receiver and calibration temperatures see diagramm below.
The Receiver provides two horns for beam switching. The geometric distance of the horns is d = 9,7 mm, the beam seperation at sky is 55 Arcsec.

This system is part of the Primary Focus Multi Frequency Box #2 (PM 2).
Charts
ULO Frequencies:
fULO1 = (fsky– 21,0 GHz) / 48
fULO2 = 562,5 MHz